Friday, July 31, 2015
These are the best oatmeal cookies. The secret is in the soaking of the raisins!
The secret ingredient which makes this cacciatore stand out is pancetta, an Italian bacon. The pancetta gives the sauce richness and body. Fresh basil leaves and baby portobello mushrooms make it special.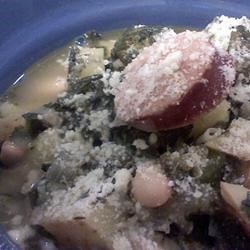 This delicious and hearty soup is made with potatoes, collard greens, and chunks of kielbasa. Even if you are not crazy about collards, you'll enjoy this. My family loves it!
Wednesday, July 29, 2015
These lamb burgers are seasoned with oregano, red pepper flakes, mint, and sherry.
A delicious chicken salad with Asian-inspired flavors is served in individual bread bowls. It's perfect for a light lunch!
Monday, July 27, 2015
A sweet relish of fresh peaches and peppers is the perfect topping for chicken, pork chops, or crackers.
Angel hair pasta is tossed with chicken and roma tomatoes in this simple but flavorful dish. The spicy blackened meat seasoning combines well with the crumbled feta cheese. Easy, but great for a company dinner!